Reader's Question: What Is Sin and Are We Sinful?
Shirley: Eleanor asked if we would answer this question. I'm happy to answer some questions form time to time. Contact us to leave us yours. Genuine questions only please!
Q: "I'm trying to reconcile my religious upbringing with some of other beliefs and I just can't believe that we are born sinful. So can you please answer, what is sin and are we really sinful? Thank you! Love Eleanor."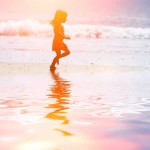 Q: What is Sin?
Jesus with Shirley Answers:
Sin is when man causes harm to himself or another by going against his true nature, which is love, compassion and oneness with all that is. It's a manifestation of that which is designed by man through greed or desire to bring about the destruction or injury of their own, or another's physical, emotional or spiritual wellbeing. Examples of sin were given to those of you who could hear the words of god as guidance to safeguard you against annihilation of one another.
Q: If we are our own creators and extensions of God, who is pure love, how can we be sinful?
Jesus with Shirley Answers:
You are not sinful, but when separation occurs between you and your true nature your essence or soul it's difficult for you to see yourself in anyone or anything else, therefore denying yourself this truth makes it easy for you to act consciously or subconsciously in unloving and destructive ways.
Jesus.